This easy, effective course will help you develop 12 different qualities that can help you feel joy - every day!

It's kind of a one stop shop for JOY, filled with simple, easy tools and tips that you can use to create the life you want.
People who have completed this course have turned their lives around and completely changed their thinking. Although things may not have changed in their circumstances, their feelings were transformed and they could remain joyful - despite what was happening around them. They felt in control of their lives and emotions. They were happy from the inside out!
I love the photo below!! Do you ever feel like that? I do!!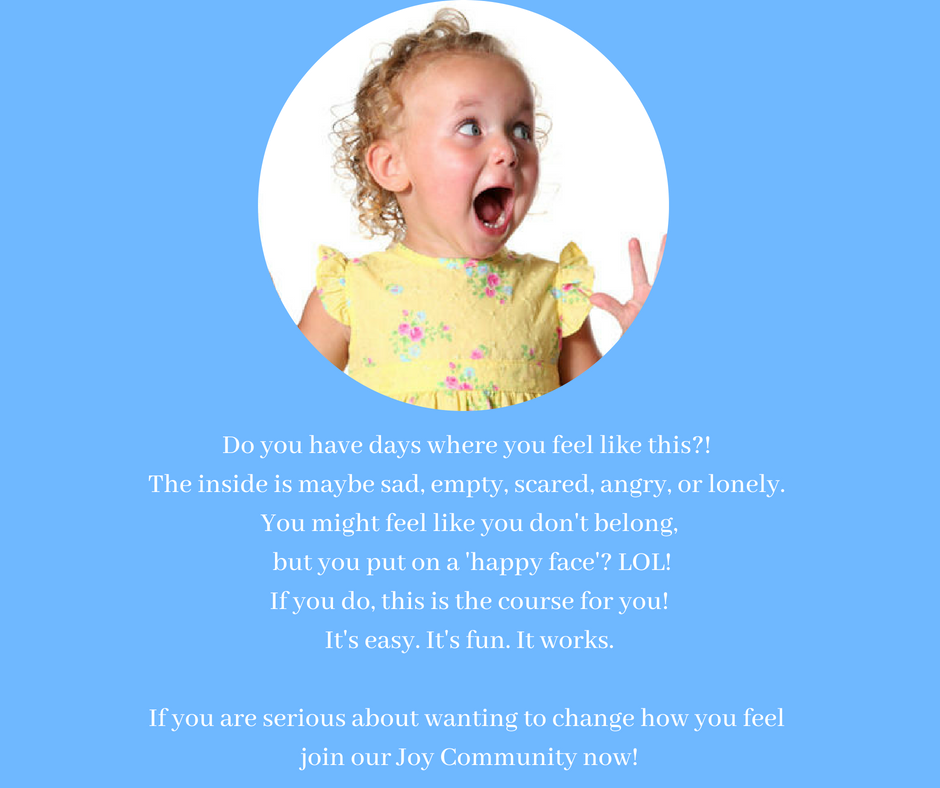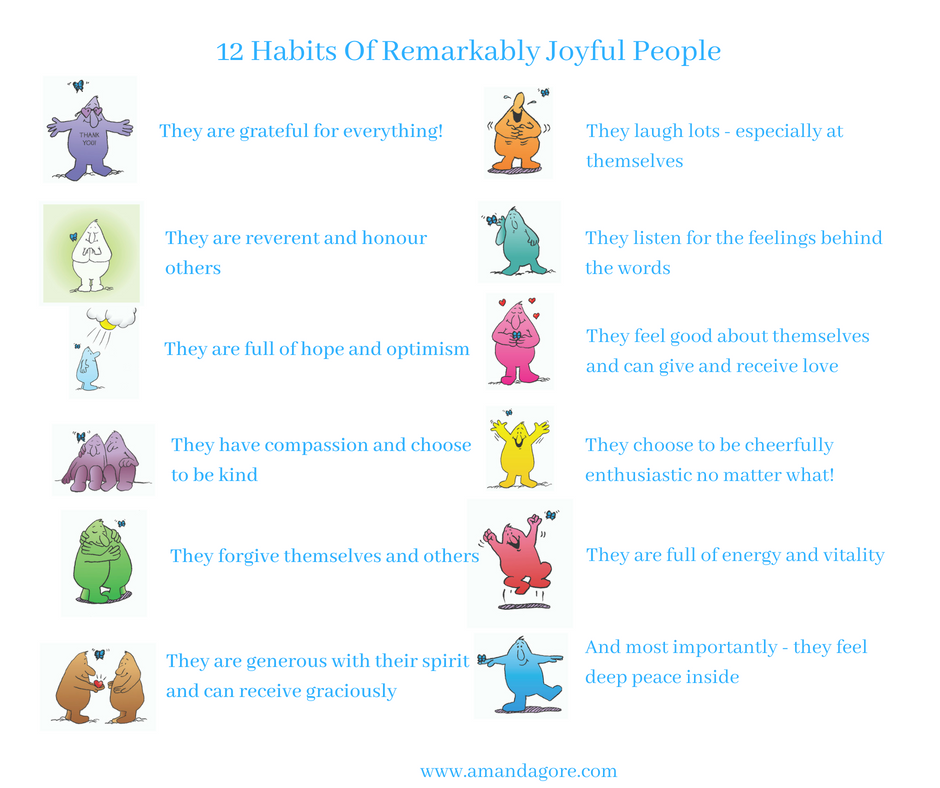 SOME TESTIMONIALS:

I have seen so many changes in my life since starting this program. I am happy, I accept myself for who I am, warts and all.I know that life throws us curve balls occasionally, I know now how to reframe each situation, to find the good in it and others by using the amazing skills I have gracefully inhaled. I cherish our learning, this past year has been huge for me!! To think that only 12 months ago I was borderline "suicidal", I had nowhere to run to, nowhere to hide, I was facing bankruptcy, stressed out of my brain, awfully overweight and lonely. I dont recognize the person in the initial photos on my profile page. Today I have diamonds in my eyes, I have been told that I have light exuding from my being as I walk down the street. People want to know where they can buy what I have. I tell them about the program! Thank you. Aviva
Seeing a video of Amanda : "How to let people know you love them", was great and refreshing, it made me want to find out more about Amanda.So I googled her and found her website and then submitted to receiving her news letters. By doing so I could down load the first chapter of her book: Joy Is An Inside Job. And what a Joy that turned out to be! I found Amanda's approach so refreshing and inspiring and for me most important was her sense of humor! Going through a very difficult and dark time of my life, doing the program brought light and a smile on my face. Amanda brings in such a simple way gratitude to our awareness in every day situations that we take so much for granted. I truly have had my deal of "stuff"and "issues" to deal with, yet I still have so much to be thankful and grateful for. Realizing this brings the gift of Joy to ones life. Being a "Good Finder" even in the most impossible situations, there is some how something good to find about it or in it. Being able to find the "good" in a very bad event in my life led me to forgiveness. Even if you just do the first module and apply this to your every day life it will bring such a huge difference and lots of JOY. It gives so many tools of awareness, empowerment and humor. Re-finding my sense of humor is also a great gift I got from this program. Amanda teaches us in a very loving and inspiring way to deal with every day issues. Vevann
Thank-you to everyone for sharing your time & for helping us to give & receive joy!!! Am learning to let go of things that are holding me back & that I am worthwhile. Am learning a lot & finding a multitude of resources, gifts & opportunities to bring joy into my life & the lives of others. Read through my gratitude journal this morning & noticed the patterns changing in what I feel I am grateful for. Really feeling more connected to the universe. Noticing how much joy smiles, friendly greetings & thoughts & acts of generosity bring to us all :-) Have a lot more courage, love & faith. Jessica
After hearing that a friend was in a state of depression, I recommended this program and emailed the various websites that are available. He ended up doing the course, buying tons of gratitude glasses and then buying books to give as gifts. He has since embarked on volunteering in the community. I am so pleased with this. Thank you. Merry
I am thrilled beyond words to have completed the course and I am not complete yet, of course! I have wanted to be smart enough and good enough to get a PhD for more than 30 years but never had the courage and will to make that happen. Now, through this program you have provided guidance, support, love, wisdom and community. I have new tools and greater awareness and will plan to review the lessons so that I go deeper into the learning. Joyce
I was one of the people involved in the initial trial of the On Line Gratitude Chapter. Being closely involved as Amanda's husband from when she started writing the program, I felt that what I would bring to this exercise was to check for "cluncky" bits as I was familiar with the content and the process. Well! Was I pleasantly surprised, going through the daily exercises was beyond powerful, it was profound. I found not only did I learn a lot about myself but it was also inspiring to read the joy jottings of my joy mates. It made a difference as I could really feel what they were experiencing as what they wrote was from the heart and spiritually uplifting. Ken